DISCOVER Meeting and Event Industry Trends!
Download BCD M&E's 2020 Global Trends Report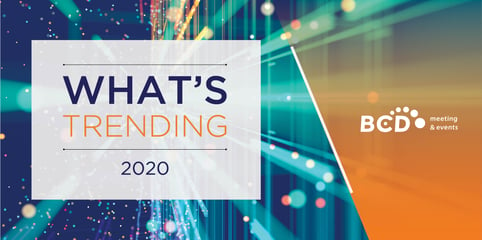 Be enlightened, inspired and informed with your complimentary copy of BCD M&E's 2020 Global Trends Report. This essential guide is your exclusive view into the future of the meetings and events industry.
Inside you'll find:
Regional Forecasts
Strategic Communications: The Power of You - Curated & Customized
Compliance: Growing Demand for Ethics, Transparency & Patient-Centricity
Streamlined Technology: Collecting the Right Data
Incentive and Event Destination Spotlights
Stay ahead of the curve by discovering corporate meeting and event industry trends for 2020. Read regional forecasts from our experts to understand local trends in North America, Latin America, EMEA and Asia Pacific. Discover which meeting and event destinations are trending for 2020, with destination spotlights on Boston, Ibiza, Kaohsiung and Cartagena de Indias.
Our report also includes insight into compliance best practices, customized strategic communications and utilizing technology to capture the right data. Learn all of this and more by taking a look at our 2020 Global Trends Report.